By Michelle Wilson, Development Director for The Children's Advocacy Center of Jackson County
"Don't ever let it be forgot
That once there was a spot
For one brief, shining moment
That was known as Camelot!"
~ Camelot (the movie)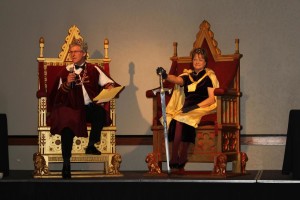 King Arthur and Queen Guinevere ~ played by Geoffrey and Joi Riley
For one brief moment on January 30, Camelot was alive and well in our part of the world. A mighty team of volunteers created a Medieval castle, complete with King Arthur and his court, and the community was invited to enter inside.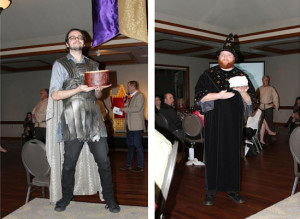 Dragons, knights, lords and ladies all came together to help us create a mythical world – for just one evening – and over 250 people joined us at our annual Winter Gala in a night which focused on children. King Arthur and Queen Guinevere (played royally by Geoffrey Riley and his wife Joi), held court, and Lancelot, Morgaine, and Merlin moved through the castle walls entertaining our guests.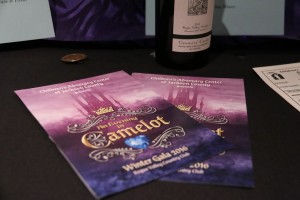 This trio also had a quest: they sought to find the pure of heart and mind and give away blue crystal hearts to anyone who was worthy.
To receive a heart, guests had to share a line or two of Old English (showing wisdom with their words), correctly answer a question about Camelot (showing knowledge of this mythical world), or share about One Kind Deed they had done that day for children (showing kindness and a pure heart).
It was a night of celebration, and all of our guests did Kind Deeds for children that evening. Celebrations bring us together and strengthen our sense of community. This celebration brought us all together in the noble quest of raising awareness of the great need for support in keeping children safe and healthy in our community.
Thank you to all who attended, to our noble and generous sponsors, and to those who worked countless hours to make it all happen!