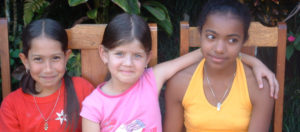 By Kirsten Arreguin, Program Manger, Jackson County Child Welfare and Board Member, The Children's Advocacy Center
April is Child Abuse Prevention Month.
Thank you for taking the time to read and get informed about child abuse prevention. Most people would probably avoid reading about the abuse and neglect of children. It's easier to ignore it, pretend that it doesn't happen in your community, in your neighborhood or to children that you know.
But you're different. You've taken the time to educate yourself or you may even know firsthand what it's like to suffer from child abuse. For whatever reason, you're the kind of person who gets involved in finding solutions. You're a leader in your community's fight against child abuse and you show a great deal of strength and courage.
You know the warning signs of a child in danger might include:
Frequent or unexplained injuries
Sudden changes in personality, activities, or behavior
Inappropriate sexual behavior
Depression and anxiety
Hypervigilance
You know the warning signs of a family at risk that may include:
Abuse of alcohol or drugs
Domestic violence
Isolation from others
Difficulties controlling anger or stress
Appearing uninterested in the care, nourishment or safety of their children
Are you looking for more ways to make a positive difference in the lives of children? You already have a heart to serve, so here's your next challenge: Look at the suggestions below and resolve to take action on one of these this year.
Take the Training!
Protect our Children is a child sexual abuse prevention training program offered through The Children's Advocacy Center. This free training teaches you how to protect your child and those around you from sexual abuse. You will learn to spot the signs of possible abuse and respond effectively if you suspect abuse.
I've taken this valuable training, and I urge you to do the same. Please go to the Children's Advocacy Center's website and click on Services/Protect Our Children to register to find out more. You can attend 3 hour training held monthly at the Jackson County Library or request a training for your work, church, or organization. I can't tell you how important this training is for every adult in our community. Please consider signing up today.
Volunteer your Time & Talents!
Have you already taken the Protect our Children training? Would you also consider volunteering your time to assist others to complete the training? There are several opportunities available for you to help make more trainings available to the community. Your time and talents are needed in many other ways also. You can view more opportunities on the CAC website when you click on the Volunteer tab. No time is ever wasted when it's spent in the service of a child who's experienced abuse or neglect.
If you're not able to volunteer your time, can I make a personal ask of you? The CAC provides specialized medical and therapeutic services to hundreds of children every year. They need your financial support to continue offering these valuable services. Please consider making a donation today by visiting the website and clicking Donate. Believe me, I know firsthand how important your gifts are to the children who are seen at the CAC.
Open Your Heart and Home!
As the Program Manager for Jackson County Child Welfare, I would be remiss if I didn't take a moment to tell you about our community's great need for foster homes. Unfortunately, at this time, we are struggling daily to find families who can provide foster care for children who have been or are suspected of being the victims of abuse or neglect. It is a heartbreak to have no other option than to separate siblings into different homes because there simply is no room for them to stay together. Would you like to find out more about becoming a foster parent? Please contact us at 541-776-6120 or visit us on Facebook Jackson County Foster Care and Adoption.
Thank you for having a heart for children and a desire to help in their healing.