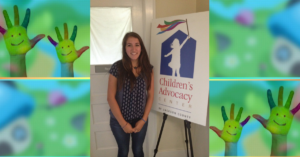 When did you start volunteering at the Children's Advocacy Center?
I started volunteering at the Children's Advocacy Center in July of 2017.
How did you become familiar with the Center? How did you find out?
I found out about the Center initially online when I was searching for organizations that I wanted to volunteer for that helped children who have been affected by negative adverse events in their lives. Later I learned more about the specific services that the Center provides children from the CAC Communication and Outreach Coordinator, Ginny Sagal.
What do you do at the Center?
At the Center I volunteer in the Medical building where I do a variety of different helpful tasks. Of those tasks, my favorites are playing with the children while they are waiting to go back for their appointments, helping Eliza make new patient folders, and making appointment reminder calls.
Why do you volunteer?
I volunteer at CAC, because I really value their mission to help children by providing them a safe place to receive help and positive experiences to carry with them in their lives. I wanted to be a part of the impact this Center has on these children.
What is your favorite part of volunteering?
My favorite part of volunteering is being able to play and read books to the children who come into the Center.
What is the passion you have for volunteering at the Center?
My passion for volunteering at the Center stems from my educational background and my love for children. At the end of June 2018, I will graduate from SOU with a Bachelor of Science in Psychology and Criminal Justice.  The Children's Advocacy Center is the perfect place for me to be able to help children and make a difference in a wonderful and supportive environment.
Can you give us a quote on your thoughts about the Center, the work we do here and how it relates to you and you're volunteering?
The Children's Advocacy Center has created a unique safe place for children to be able to heal from negative experiences and become children again. This is a hard field to be in, but each employee has a passion for this type of work, which is evident by the way they interact with the children, families, and volunteers that come through their doors each day. I really enjoy being able to be a part of this organization and the impact that it has on these children. I look forward to my volunteer shift each week.
There is always room for more volunteers. Please let us know if you have a place in your heart to help children and their families. We can set up a time to for a Center tour and talk about how you might want to help the abused children and their families we serve.
Contact Ginny Sagal at vsagal@cacjc.org or call her at 541-282-5474 EXT 1013