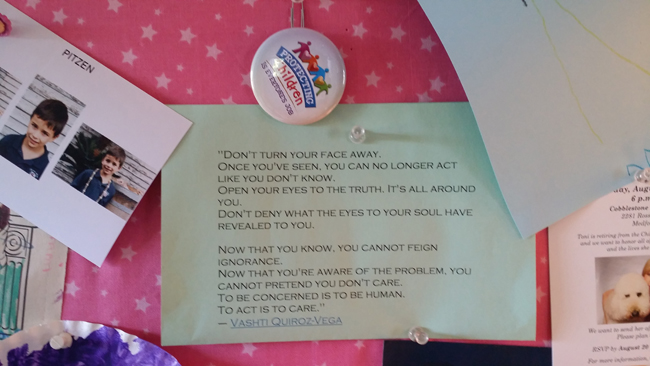 By Tammi Pitzen, Executive Director, The Children's Advocacy Center of Jackson County
In my office I have posted up on my bulletin board this quote:
Now that you know, you cannot feign ignorance. Now that you're aware of the problem, you cannot pretend you don't care. To be concerned is to be human, to act is to care. Vashti Quiroz-Vega
I look at this every day that I am at work. It speaks the truth. It speaks to me. When I think about my life's work, I think about how true this idea is.
Many Children's Advocacy Centers do not have prevention programs. It is not required by National Children's Alliance, our accrediting body. I have always been intrigued by prevention work. Now I am lucky enough to work at a Children's Advocacy Center that has embraced prevention and education as part of its core service menu.
We were very lucky to have been awarded a grant from the Ford Family Foundation to support our prevention work. Specifically, the grant is supporting our efforts to deliver Darkness to Light's child sexual abuse prevention class, Stewards of Children, to Jackson County.
Our goal is a lofty one. Our goal is to train 5% of the adult population of Jackson County in Stewards of Children over the next three years.
Why? Why do we care about training adults to recognize and respond to child sexual abuse?
Because I believe that once people become aware of the problem they will not be able to pretend they don't care. I believe that once people see what can be done when we as adults work to protect the children in our community — that they will no longer be able to look the other way.
One of the biggest misconceptions is people believe they do not need to learn these skills because they do not work with children or have children of their own.
Keeping children safe is an adult responsibility. It matters not whether we have an emotional attachment to that child or not. As a generation, we have stepped up to save the world for future generations. We recycle. We conserve. We re-use. We do this to keep the earth and the earth's resources for the generations who come after us. Why can't we take that same approach when thinking about keeping children safe?
Child sexual abuse is devastating to the child victim, but also to our "world". It costs billions to recover from child sexual abuse as a country. Our prisons are filled with victims. Our mental health system is over loaded. The ACE Study now confirms life-long impacts that abuse has on a victim over the lifespan. There is actual research that is now confirming the costs to the healthcare system as a result of child abuse. Our child welfare system is stretched as far as it can stretch. We should care. We should as adults want to conserve these resources for future generations as well.
Do you have two hours to commit to becoming part of the solution?
Yep. Two hours. You can learn how to respond to child sexual abuse. You can learn how to reduce the risk of child sexual abuse to the children in your world, your community, your life! You can have an impact on future generations by making your "circle" a safer place for children.
Now that you know, do not pretend you do not care. Call the Children's Advocacy Center of Jackson County and sign up for a class.
Call the Children's Advocacy Center and request that we provide a class to your employees, your volunteers, or your civic organization.
Now that you know…..how can you pretend you do not care? Will you care? Will you act?
For more information or to register for a child abuse prevention training at the Children's Advocacy Center, contact Leah Howell at: protectourchildrenjc@gmail.com or call: (541) 282-5474 ext 113