By Renae Dixon, KeyBank
At KeyBank, we have one overall goal: to help our clients and communities thrive. While we have a laser focus on financial wellness, we realize the benefit of a holistic approach to well-being and are always looking for ways to be involved in the communities where we live and work.
That is why the mission of one of our clients, CACJC, is so important to us. As they support the most vulnerable in our society, we are proud to support them in any way we can, including financial support.
We have always been aware of the excellent work they do in the community and are proud to support their goals. For the past two years, we have presented a gift to the organization at our invitation-only event on the eve of the annual Southern Oregon Business Conference. That evening we were proud and pleased to showcase CACJC and raise visibility for its work on behalf of children in the presence of an audience of prospective supporters and donors.
Philanthropy is part of KeyBank's DNA and we have been nationally recognized for improving the quality of life in our communities. The Civic 50 identifies the top 50 S&P 500 corporations in the U.S. in terms of time, talent and resources used to improve the quality of life in their communities. Key was named to the most recent Civic 50 list as one of America's 50 most community-minded companies by the National Conference on Citizenship and Points of Light.
The KeyBank Foundation works hard all year long to connect closely with nonprofit partners that will have a transformative impact on our communities, and our employees' engagement in volunteerism and personal philanthropy is a source of pride for us all.
We're certainly not alone in our commitment to improving the quality of life in our communities. According to Giving USA, corporations donated $18.45 billion in 2016. That's a great deal of money. But the needs are always greater.
Will you join the movement? If you have the chance to initiate a program of volunteering or donating at your business, I encourage you to do so. Being a good neighbor and helping our community allows all of us to thrive, together.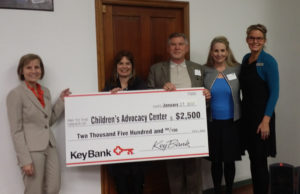 About the author: Renae Dixon is Senior Business Services Officer at KeyBank. She can be reached at 541-282-2372 or renae_a_dixon@keybank.com.