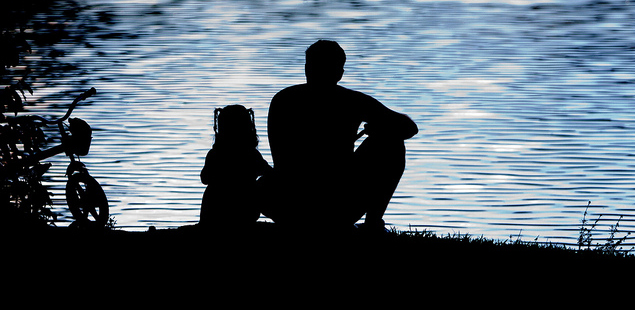 By Tammi Pitzen, CAC Executive Director
Ask anyone who knows me well and they will tell you I am a Daddy's Girl.
I cannot begin to tell you how much I love my mom, but my dad has always been my hero. Some of my strongest personality traits are ones I inherited from my father. The stubbornness. The inability to be wrong in any argument. Respect for authority. These are tempered by fierce loyalty to family and friends, a strong belief in taking care of those more vulnerable than I, and recognizing the importance of the golden rule.
Growing up I never heard my father say anything bad about anyone. I never heard him say a curse word. I never saw him lie or be dishonest. I did see him work very hard at a job where his supervisors did not fully appreciate him. I did see him give to others. I did see him love my Mother. I did see him take leadership roles.
There were other lessons that were harder to grasp. I think that those lessons are the ones that I still carry around in my heart:
Nothing worth having comes without sacrifice. Those things that are handed to us are usually taken for granted.
Do the right thing, even when no one else is looking. You are always looking. Don't do anything that would make it hard to look at yourself in the mirror.
Never start something you are not going to see to the end. People are counting on you and your word is a promise. Never break a promise.
Always treat people the way you want to be treated.
Stand up for your beliefs. If you don't value them, no one else will respect them.
As a child I never really understood how important those lessons would be as an adult. Then I became an adult and married. It is no mistake that my son's father has many of these same traits. It makes my heart happy to see my son also look at his father in the same awestruck manner that I imagine my mother witnessed with me. I watch my son imitating his father and take comfort in knowing that he will grow into the man that his father is showing him how to be.
I think back to the many tears my daddy wiped away. I think back to the first dance I ever had with my dad which happened to be at my wedding. I think back to the struggles that my dad went through raising his family, that I never knew about until I was an adult because he and my mother sheltered me from them.
And I am thankful. My heart is full. I am blessed.  I wish all the men who have children in their lives a Happy Father's Day. I remind you of the influence you have over these children.
Be the person you want them to be.