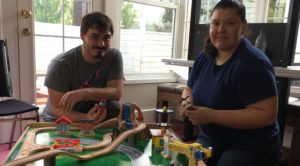 By Tammi Pitzen, Executive Director of the Children's Advocacy Center of Jackson County
Many of you have heard me say that child abuse is a community problem that deserves a community response. I actually say and write that frequently.  It did not originate with me, and I actually can't tell you who said it first.  What I can say is that it resonates with me.
I can also say that I see my community step up and be a part of the response every single day. 
Every time, it makes me proud of the community I live in and every time, it makes me feel humbled and in awe of the generosity of this community.  Every time, it makes me feel a little emotional that so many people care about the outcomes of the children we serve at the Children's Advocacy Center of Jackson County.
Some of you right now are asking yourself, "What is a community response?"
A community response is a group of runners who donated proceeds from the Siskiyou Outback (or as it is known by its more irreverent name 'the SOB') to provide safety to staff and to the children and families we serve in the form of an updated security system.  This is so needed and is one of those things people may not think about.
Erin, Rob, John and Susan—those who run the race—came for a tour and decided that the gift of safety and security was one that the children we serve and the staff who serves them deserve.
I went out to Mt. Ashland to watch some of the day's activities and was moved by the runners who were cheering each runner who crossed the finish line.  It made me wish that each child who visits the Center for services could see a finish line…and made me hope that they felt that same level of support when they crossed the threshold of the door of the Center.  I was moved again when I hugged each of those people who made this gift possible.
This is a big deal.  This is a community response.  This is one way to make kids who have had safety ripped from their hands feel safe again. 
Thank you is inadequate.  But it is all I have.  That and my undying gratitude that they recognize the work we do and value the service we provide.  Not only do they value the service, but value those giving and receiving the service.
A community response is a young man named Milan who coordinates and facilitates a one-day soccer camp to benefit the Children's Advocacy Center during the heat of early July.  The soccer camp is free with a request of a donation to help the Center.  This is an amazing camp that children from our community, both those who receive services from our agency and those from the general public, come together to learn social skills, to learn team building, to learn to play soccer, and to really just have fun.  This all came about because a young man came on a tour and wanted to give something.  His passion is soccer.  He wanted to give his passion to the children of the Rogue Valley and to our agency in hopes of providing healing to the children who pass through our doors in need of compassion, safety, and healing.
A community response is Jeff Pevar, Inger Jorgensen and LOVEBITE playing a benefit concert at Grizzly Peak Winery to raise awareness about child abuse in our community and to raise money to help solve the problem.  It was amazing to hear these talented musicians giving us their gift in an effort to make it possible to dream of a place where no child will ever feel unwanted, devalued, and minimized.  A place where no child will suffer at the hands of another…where no child will bear the marks of abuse…where no child wears the hidden scars left by the trauma of abuse.  A community response is a dance floor filled with people who came to support the cause and enjoy an evening listening to some really good music.
A community response is Dagoba Chocolate picking the Children's Advocacy Center to do a service project to insure that children who need clothes in a time of crisis will have complete outfits put together with just them in mind.
A community response is Diode Laser Concepts who sends a small army once a month to take care of all of our "honey do's"…which can be anything from cleaning out our gutters, getting spider webs off one of our buildings or putting together a new train table.
A community response is group of professionals from Banner Bank who painted offices as part of United Way's Day of Caring.
A community response is a volunteer Board of Directors who shows up every month for meetings, who share their good fortune to support the programs we offer, who share their gifts with our agency…who provide guidance to an Executive Director whenever it is needed.
A community response is a volunteer Advisory Council who provides advice, connections, and support, so the children of our community have access to healing services.
I am humbled over and over again by the generosity of those who give their gifts to support the abused children who receive healing and recovery services from the Children's Advocacy Center.
The ones written about in this blog are only the most recent.  With each word typed, I am reminded of others who have given of themselves to help support our children.  Perhaps they will be the inspiration for another blog.
Every gift counts.  Every gift is valued.  Every gift is precious.  Every gift provides healing.
Today as I sit in my office working on grants, working on paying the bills, working on all the less glamorous things that are connected to running a nonprofit agency, I am so thankful.
I am thankful that I am surrounded by people in my community who see the unseen and rise to the challenge in a move to end child abuse.  I am thankful to have had the opportunity to meet Rob, Susan, Erin, John, Milan, Jeff, Inger, Paul, Jacob, and Matthew.
I am thankful that I live in a place that when someone says, "Child abuse is a community problem that deserves a community response"…that the community responds.