By Michelle Wilson, Development Director, The Children's Advocacy Center

This spring we invited all of the children and teens in Jackson County to help us decorate our walls. We held an art contest and invited submissions of art that fit the theme "Celebrating Cultures of Our World."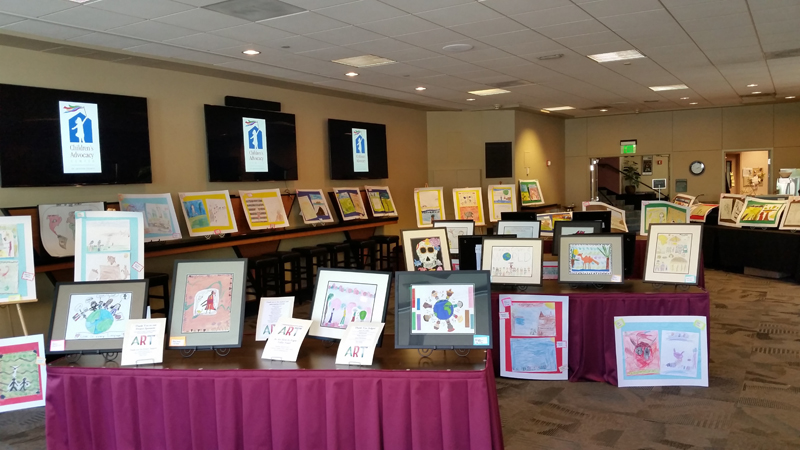 We received 102 beautiful pieces of art. Each one was created by a child or teen who saw the poster for our contest and decided to enter – each one created by a young person who wanted to create art and share it with others.
And what wonderful art they created!
We asked a few local "celebrity judges" to help us choose the top 16 pieces to display at our center. Thank you to Jim Collier (art patron and supporter of many art-based agencies in town), Brad Russell (Executive Director of the Rogue Valley YMCA), Kathy Mustard (owner of Mustard Press and member of our Advisory Council), Eric Strahl (Events Manager for the Craterian Theater), and Jamie Hutchinson (Family Meeting Facilitator for DHS).
These judges helped us pick the top 16 pieces which are now framed, matted, and ready to be displayed at the center. Another 32 pieces received an Honorable Mention because it was so hard to choose. And we have decided to display all of the work because it is all so filled with positive, joyful energy. We are going to fill this center with color and designs that celebrate not only the cultures of our world but also the bright energy of children and teens all around us.
Thank you to the Jackson County Cultural Coalition and an anonymous donor for making this all happen. Thank you to the Craterian Theater at the Collier Center for Performing Arts for hosting the show. And thank you to all of the kids, teachers, and parents who responded to our invitation and made sure we received so many beautiful pieces of art. Our staff members are already saying how grateful they are that we will have this art collection to bring light and healing to our center and work.
Art truly does heal. Creating it and sharing it with others really is a wonderful way to bring light to dark places and share our gifts with others. To everyone who made this happen ~ thank you.