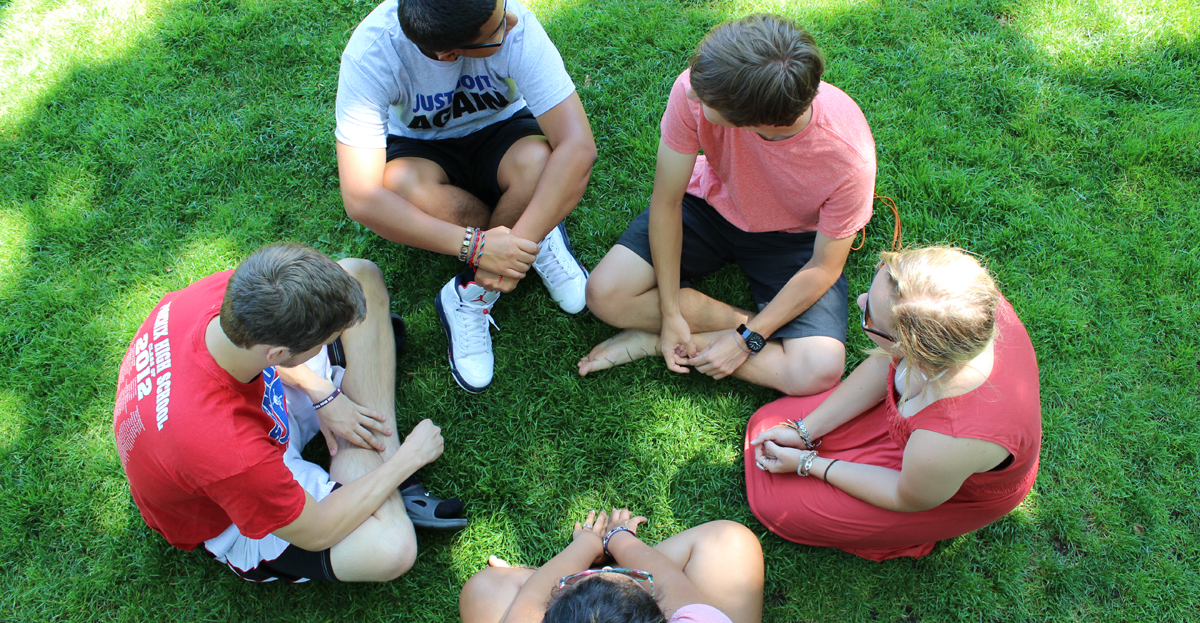 This is a guest post by Ellen Craine, Executive Director of the Rose Circle Mentoring Network.
The Rose Circle Mentoring Network is excited to offer a weekly mentor circle to 4th, 5th and 6th grade girls at the Children's Advocacy Center.  The Rose Circle has been providing circle mentoring to Rogue Valley youth since 2006.  A few years ago, a veteran of our first girls' circle was interviewed about her circle experience.
"I think one of the most valuable things I learned in circle was a feeling of importance within myself and a feeling that I deserve to be heard and I deserve a space that's for me.  That was important to me because there are so many times when people tell you you're not good enough or just kind of push you aside." Elizabeth
Reflections like this remind us of the value of the circle!
What is a Circle?
The circle provides a safe, respectful and confidential place in which kids can learn to listen to one another and express themselves.  Each circle is typically comprised of 5-8 youth and two adult mentors.  When kids ask us what circle is, here's how we answer the question:
A circle is a safe place to talk about things that you are thinking about in your own life. A circle is a place to have fun while learning to explore and understand yourself and others. A circle is a place for you to listen to others speak about things going on in their lives. You will learn about confidentiality and how this contributes to making the circle a safe place for this kind of sharing. The circle is a place where the skills of listening, witnessing, sharing and supporting each other are modeled and taught.
Who are the Mentors?
A mentor is a member of the community who wants to make a positive difference in the lives of young people.  Our two mentors at the Children's Advocacy Center, Suzanne and Megan, have a wealth of professional experience working with youth, as well as experience raising their own kids at home.  Rose Circle mentors are required to take a 2-day training in which they learn and practice the skills of compassionate, nonjudgmental listening.  All mentors undergo rigorous background screening.
Benefits of Circle Mentoring
Young people who participate in circle mentoring develop trusting relationships with their adult mentors, while also improving their ability to relate to their peers.
Circle mentoring may be particularly helpful to youth who are having difficulties with peer relationships. Circle participation gives kids a safe context in which to develop their social skills in relating to peers.  Kids are often comforted to learn that they aren't alone in the challenges, fears and frustrations they face.
What Takes Place in Circle?
The answer to this question varies on the age of the participants.  Each circle starts out with an opening, a structured way of beginning that marks the circle as a special time set apart from the rest of their lives.  This usually includes a "check-in".  For the younger girls (ages 9—12) this may be as simple as asking each girl to say one word that describes how she's feeling in the moment.  Another type of check in we like is "a rose and a thorn"—one happy thing and one not so happy thing that's going on for you.  After check-in, the circle will participate in a group activity centered on a theme, such as "friendship" or "self-esteem."  This may include games, crafts or writing activities.  At the end of the hour, the circle is closed with a "check-out".
As youth get to know one another, they tend to want to spend more time talking.  Circle conversations take place in a structured way, where one person speaks and others learn to listen respectfully.  All circle activities take place according to group agreements that the youth help draft during their first circle.  Some typical agreements might include respectful language, one person speaks at a time, and everyone has the right to "pass".  Confidentiality—and exceptions to confidentiality—is an essential guideline for all circles.
The first Rose Circle will be held at the Children's Advocacy Center on Tuesday, March 5.  We look forward to collaborating with the Children's Advocacy Center  in this way.