By Betsy Lewis, Social Media Contractor for the Children's Advocacy Center of Jackson County
Everyone knows a dog is a boy's best friend.
For my son — it was a cat.
The cat's name was Spike. She was old and wise – an all-over soft gray color with a white chest and dainty white paws. As she grew older, she spent most of her time asleep on my son's bed.
During a difficult time of his life, my son told me Spike was his best friend. He said she was the only one he could really talk to and that she listened with knowing eyes. He could pick her up, pet her and her purr was soft and soothing  — and it felt like love.
Science supports what pet lovers already know: Pets improve our lives.
CAC therapist, Catherine Zern, knows that pets can also be part of healing the trauma of child abuse. At the CAC, Fancy the therapy dog, does what comes naturally – loves the kids who come to the Center and is an integral part of their therapy.
According to Catherine, here are some of the reasons why pets help in healing:
They are unconditional in their affection
They don't judge
They make sense in a world where, for a lot of kids, people don't
They are teachable no matter how little you are or how big they are
You can tell them anything and they will keep your confidence
They can sense your feelings before you even say them
They want to help
They have really soft ears!
When Spike died of very old age, we were all devastated – particularly my son. Wanting to honor the significance of Spike in our lives, I turned to pet portrait artist, Jennifer Eufusia. We hired her to paint a watercolor portrait of Spike.
My son and I met with Jennifer and shared pictures and told stories about Spike, so she would have an idea of how to portray her in the painting. My son described Spike as a "serious wise old lady". I told stories of Spike's youthful kitten days (before my son was born) and how she loved to nibble on rose petals. There were lots of tears and laughter.
A few weeks later, Jennifer came to our house to unveil the portrait. My son had created an altar space in our living room and we had made special things to eat. That afternoon we celebrated Spike's life.
And here is the final portrait: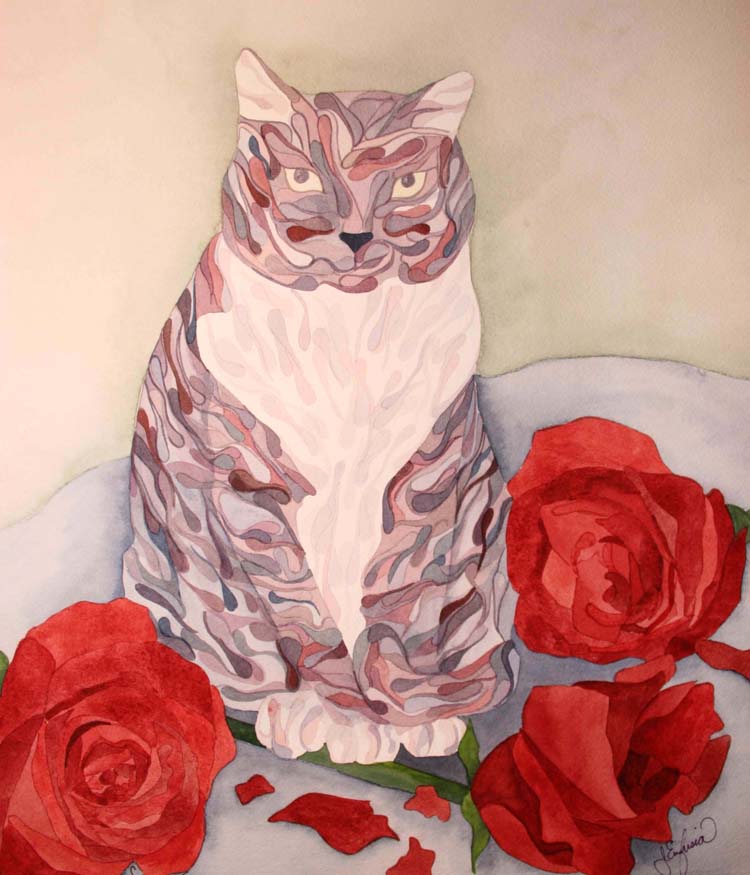 Rest in Peace dear Spike. Thank you for all the blessings of your kitty-ness!