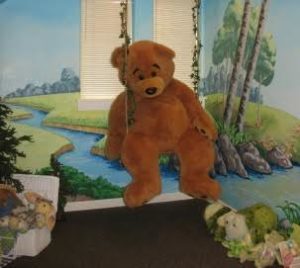 By Theresa Hart, Development Director for The Children's Advocacy Center of Jackson County
It was a night to remember as people gathered from near and far for An Evening on Broadway. Attendees arrived in Broadway costume, formal or casual attire to raise money for children. Even the Tin Man showed up for some fun.
In the beautiful setting of the Rogue Valley Country Club, more than 250 persons enjoyed singing On Broadway and bidding on silent and oral auction items generously donated by local businesses and friends throughout the Rogue Valley.
The Broadway theme was carried through to a bright Marquee and photo booth where guests posed for pictures. Grease Lightning was also well represented.
The Opening Act – The Children's Advocacy Center Bear – was auctioned off twice. The nearly famous CAC Puppy went to a good home again this year. The fun didn't end there. Oral and silent auction items included trips, entertainment and wine packages. There were also some unique items and a 50/50 raffle.
We are so grateful to the more than 30 volunteers who contributed countless hours to make the event a huge success.
Thanks to all of our sponsors and donors for your generous donations and partnering with us to work towards communities where children are safe, families are strong, and our child victims become children again.
View our Facebook Album for pictures from Gala 2017!